E-PAPER VENDOR CORPORATE SUBSCRIPTION GUIDE
What is the E-Paper Vendor?
The E-Paper Vendor is a unique knowledge management and learning solution, designed to enhance your newspaper reading experience with access to the complete digital version of major daily newspapers at significantly lower cost.
Newspapers are a veritable source of information, knowledge and learning about various areas of work and life that affect you and your organization in different ways.
Beyond the headlines, the rich information available in newspapers can help enrich your knowledge and understanding about your clients and prospects; your industry; and even your competitors. Newspapers can inspire ideas and insights that can improve your existing and future products.
So, whether you are a CEO or C-Level Executive, Manager or Professional in Operations, Marketing, Branding, Product Development, Research, Finance, Customer Service or Sales across various industries in the Private, Public or Not-For-Profit Sectors - newspapers are an important tool in your arsenal for improved productivity and impact.
Why Switch to the E-Paper Vendor?
Complete Digital Version – includes every page of the physical newspaper.
Cost Saving – saves up to 80% of the newspaper cost.
Easy Access – compatible with multiple digital devices.
Portable & Convenient – read newspapers anywhere and anytime.
Keyword Search – quickly search for mentions of any word or phrase.
Our Typical Clients
Our typical clients include individuals seeking to subscribe to the service for their personal use or organizations who want to have subscriptions for their Executives and Managers. In both cases, the subscription is tied to individual subscribers uniquely identified by their email addresses and phone numbers.
Note: It is illegal for users to share their access or e-papers with others, and organizations are not allowed to grant multiple access to one subscription. Please visit https://epapervendor.com/terms.php to read out Terms of Service.
Sector and Industry Distribution
Our typical organizational clients cut across various industries. The Pie Chart below shows the different industries and the distribution of our clients within these industries.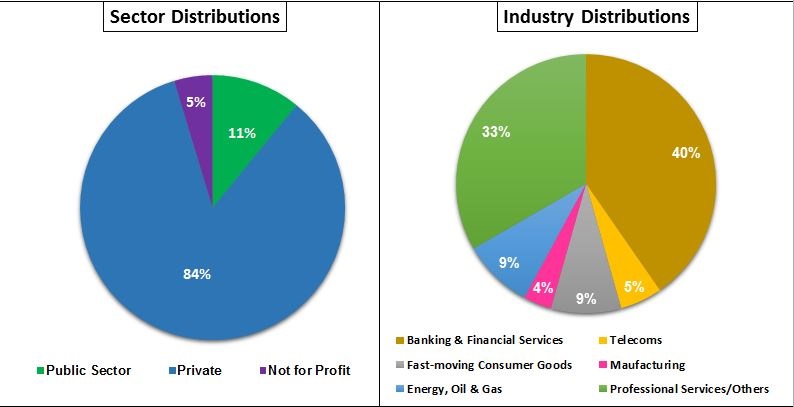 Available E-Newspapers
E-Paper Vendor distributes the digital version of leading Nigerian newspapers to readers across the globe based on individual preferences. We presently handle the distribution of Thisday, Daily Times, Businessday, Leadership, Nigerian Tribune, New Telegraph and Blueprint e-Newspapers.
Existing Clients
The list of our corporate clients includes public and private institutions, as well as Not-for-profit organizations. We presently offer the E-Paper service to a number of organisations including AMCON, CBN, NIRSAL, NIPC, Stanbic IBTC Bank, Access Bank, Standard Chartered Bank, FBNQuest Merchant Bank, ARM Investments, Custodian Insurance, Interswitch Limited, 9mobile Nigeria Limited and Rack Centre Limited, Lagoon Hospitals, etc.
Subscription Procedures for Organisations
Provide the list of your proposed subscribers and their respective newspaper preferences via email to [email protected] Specify the subscription plan (quarter, biannual, or annual).
E-Paper Vendor will furnish your organisation with an invoice for the service based on the information provided above.
Once the invoice has been processed, your users will be duly registered on the platform and issued unique login details which they can use to access their respective e-paper accounts.
The daily e-Newspapers are made available on the platform every morning before 7:00AM, and your users can login to access their designated e-papers.
Please call 0809 536 8967 for any clarification.
Subscription Rates for A User
| Newspaper | Quarterly Cost (N) | 6 Months Cost (N) | 1 year Cost (N) | 2 years Cost (N) |
| --- | --- | --- | --- | --- |
| | 3,900 | 7,800 | 15,600 | 31,200 |
| | 1,500 | 4,500 | 9,000 | 18,000 |
| | 4,500 | 9,000 | 18,000 | 36,000 |
| | 1,200 | 2,400 | 4,800 | 9,600 |
| | 7,800 | 15,600 | 31,200 | 62,400 |
| | 4,500 | 9,000 | 18,000 | 36,000 |
| | 4,500 | 9,000 | 18,000 | 36,000 |
| | 4,500 | 9,000 | 18,000 | 36,000 |
| | 6,240 | 12,480 | 24,960 | 49,920 |
| | 1,200 | 2,400 | 4,800 | 9,600 |
| | 600 | 1,200 | 2,400 | 4,800 |
| | 600 | 1,200 | 2,400 | 4,800 |
| | 4,500 | 9,000 | 18,000 | 36,000 |
| | 4,500 | 9,000 | 18,000 | 36,000 |
| | 1,200 | 2,400 | 4,800 | 9,600 |
| | 600 | 1,200 | 2,400 | 4,800 |
| | 600 | 1,200 | 2,400 | 4,800 |
| | 4,500 | 9,000 | 18,000 | 36,000 |
To get additional information, please call us on 0809 536 8967 or send an email to [email protected]