1.0 What is the E-Paper Vendor?
The E-Paper Vendor is a unique knowledge management and learning solution, designed to enhance your newspaper reading experience with access to the complete digital version of major daily newspapers at significantly lower cost. Newspapers are a veritable source of information, knowledge and learning about various areas of work and life that affect you and your organization in different ways.
Beyond the headlines, the rich information available in newspapers can help enrich your knowledge and understanding about your clients and prospects; your industry; and even your competitors. Newspapers can inspire ideas and insights that can improve your existing and future products.
So, whether you are a CEO or C-Level Executive, Manager or Professional in Operations, Marketing, Branding, Product Development, Research, Finance, Customer Service or Sales across various industries in the Private, Public or Not-For-Profit Sectors - newspapers are an important tool in your arsenal for improved productivity and impact.
Why Switch to the E-Paper Vendor?
Complete Digital Version – includes every page of the physical newspaper.
Cost Saving – saves up to 80% of the newspaper cost.
Easy Access – compatible with multiple digital devices.
Portable & Convenient – read newspapers anywhere and anytime.
Keyword Search – quickly search for mentions of any word or phrase.
2.0. Our Typical Clients
Our typical clients include individuals seeking to subscribe to the service for their personal use or organizations who want to have subscriptions for their Executives and Managers. In both cases, the subscription is tied to individual subscribers uniquely identified by their email addresses and phone numbers.
Users are prohibited from sharing their access with others and organizations are not allowed to grant access from one subscription to others within or outside the organization.
To get you started on the service, please take advantage of our one-week free trail by clicking https://tinyurl.com/epvtrial
3.0. Sector and Industry Distribution
Our typical organizational clients cut across various industries. The Pie Chart below shows the different industries and the distribution of our clients within these industries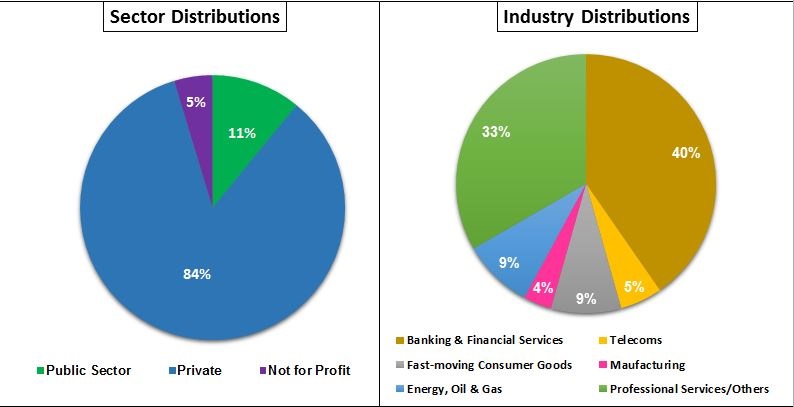 We also offer an archive service where we provide past editions of newspapers to individuals and organizations who ONLY want access to the archives. You may contact us via email at [email protected] to take advantage of our archives service.
All our subscribers (old and current) have access to archives of their respective e-Newspapers throughout their period of subscription. This is accessible via the user interface on our platform.
Payment Options
1. Visit www.epapervendor.com, register/sign-in to select your preferred e-papers and proceed to make the payment online.
2. Alternatively, you can make your selections from the table above, and make a direct transfer or deposit to our bank account (see details below). Please notify us via 08095368967 once the payment is done so we could confirm it and activate your account.
Bank: Stanbic IBTC Bank Plc
Account Name: Learning Impact Model Limited – E-Paper Vendor
Account No: 0026326826